The 200 Greatest Aussie Albums of all Time: Rolling Stone Australia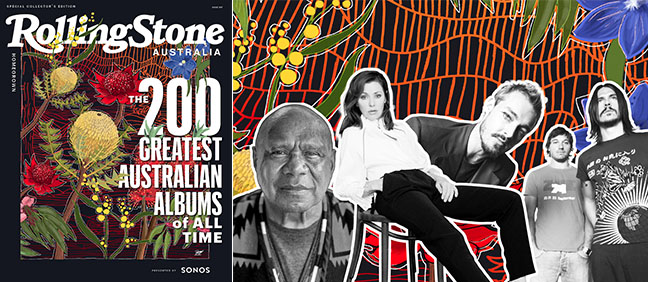 Rolling Stone Australia has announced their list of the 200 Greatest Australian Albums of all Time for their latest issue.
The new double-length issue features a special edition cover illustrated by proud Yuwi, Torres Strait and South Sea Islander artist Dylan Mooney, and underlines the homegrown nature of all the amazing albums discussed throughout the issue.
Topping the list is AC/DC's iconic 1980 album Back in Black, which was written, recorded, and released just months after the death of frontman Bon Scott.
The rest of the top 20 includes career defining albums by John Farnham, Cold Chisel, Silverchair, Crowded House, Savage Garden, Kylie Minogue, Tame Impala, 5 Seconds of Summer and Dr G. Yunupingu.
And don't think it's only the latest music that makes the cut. The list covers 55 years of Aussie musical history, with albums ranging from 1965 through to 2020.
Rolling Stone Australia Editor Tyler Jenke said Australia has some of the world's greatest music.
"It's been an amazing experience to go in-depth with many of these records, realising and understanding the blood, sweat, and tears that went into making each and every one," he said.
"It's been an honour to go back and listen to all of these records, rediscovering some old favourites, uncovering some new favourites, and shining a light on some of this country's finest artists. I can only hope that everyone has much fun delving into this list as we had compiling it!"
Here's the countdown of the top 25 songs:
25. Hoodoo Gurus - Stoneage Romeos
24.The Whitlams - Eternal Nightcap
23. The Saints - (I'm) Stranded
22. Silverchair - Diorama
21. Sia - 1000 Forms of Fear
20. Dr G. Yunupingu - Gurrumul
19. MidnightOil - 10,9,8,7,6,5,4,3,2,1
18. Powderfinger - Internationalist
17. 5 Seconds of Summer - 5 Seconds of Summer
16. Powderfinger - Odyssey Number Five
15. The Go-Betweens - 16 Lovers Lane
14. Regurgitator - Unit
13. Nick Cave & The Bad Seeds - Murder Ballads
12. Tame Impala - Currents
11. You Am I - Hourly, Daily
10. Kylie Minogue - Fever
9. Savage Garden - Savage Garden
8. The Avalanches - Since I Left You
7. Crowded House - Crowded House
6. Silverchair - Frogstomp
5. Midnight Oil - Diesel and Dust
4. Cold Chisel - East
3. John Farnham - Whispering Jack
2. INXS - Kick
1. AC/DC - Back in Black
You can view the full list at Rolling Stone Australia
Main image: Supplied